Est DOB:
Almond Joy: 3/22/23 (known)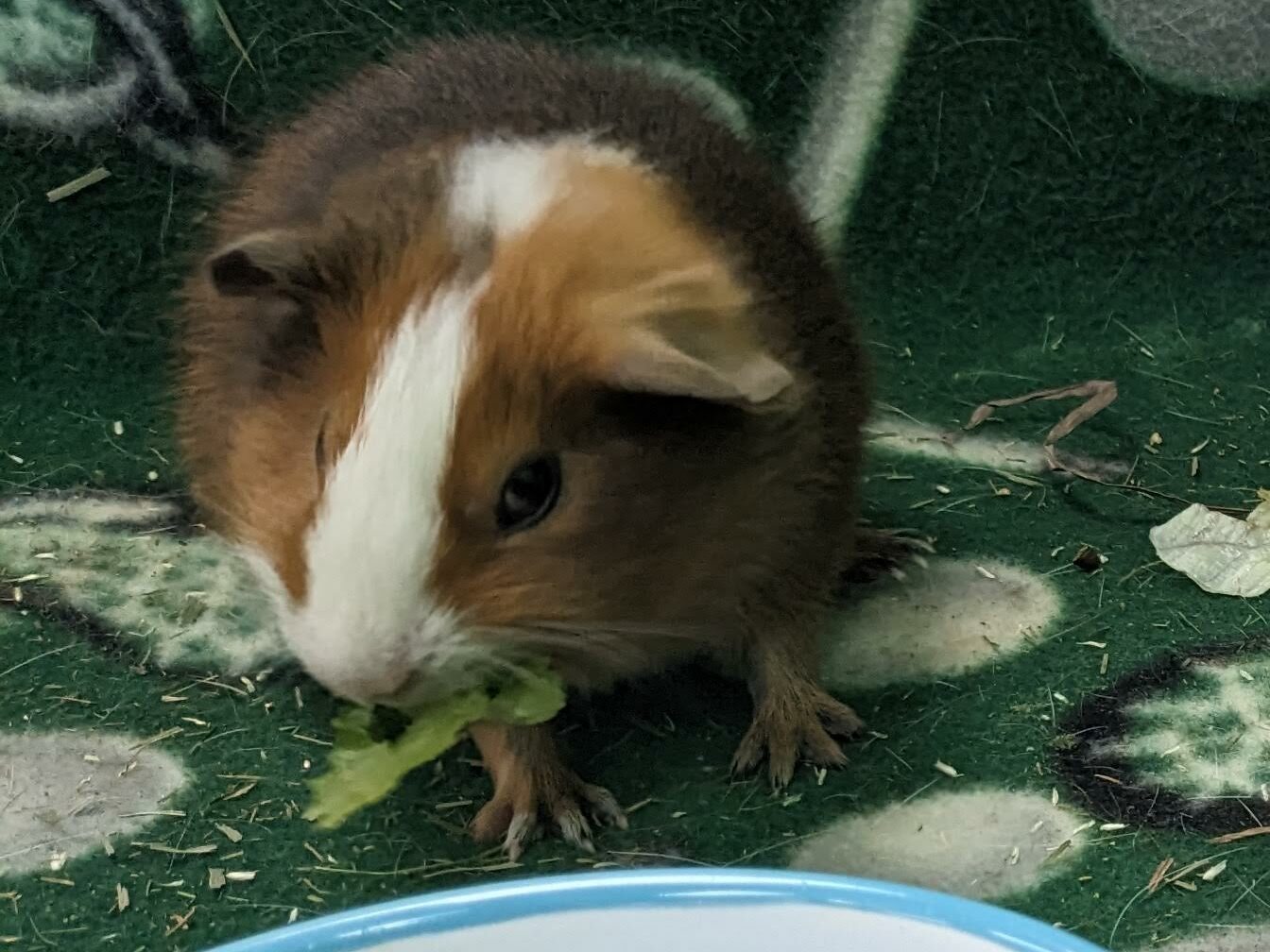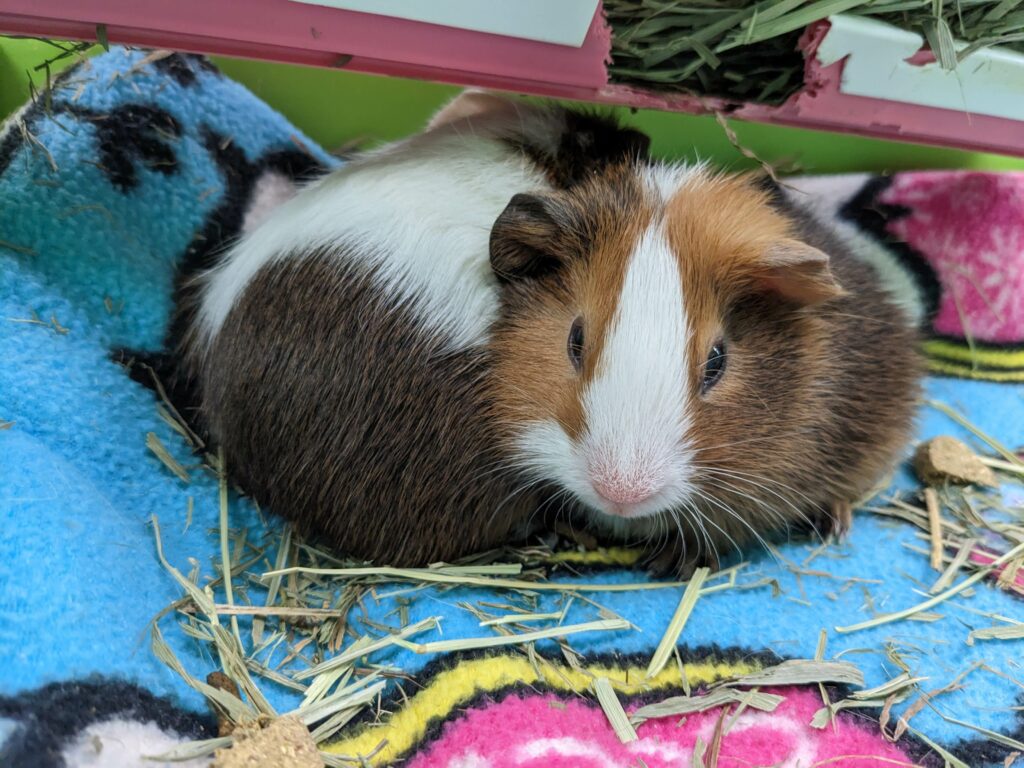 Meet Almond Joy! This sweet boy is a young piggie with a lot still to learn about the world. He hasn't been with us for very long but he has had so many new experiences already!
Since he is so young and has experienced some significant changes in his living situation, he can be very shy at first, though he is pretty curious and willing to at least give a new place a quick run around before finding a safe hiding spot. Almond isn't the biggest fan of being held but he's quickly learning that it's actually not a bad deal. He gets some nice head and neck rubs and that's pretty cool. It's something we are working on slowly. With patience he is getting more used to handling and more comfortable with hands near him.
Eating is probably the best thing in the world for this guy. He LOVES his pellets and hay is pretty good too. He's also discovered a love of salads. So far, he's tried romaine lettuce (LOVE), spring mix, parsley, cilantro, mint, oregano, green bell pepper, and red bell pepper. He's been a champ about trying new things, even without momma Twix trying it first. This guy has an adventurous spirit, he just needs some more life experience to build his confidence and help him embrace the curiosity.
Almond Joy has always lived with other guinea pigs and gets a lot of confidence from them. He needs a home with another, older male guinea pig to keep him company and make him feel more comfortable. Guinea pigs are herd animals anyways so the more the merrier!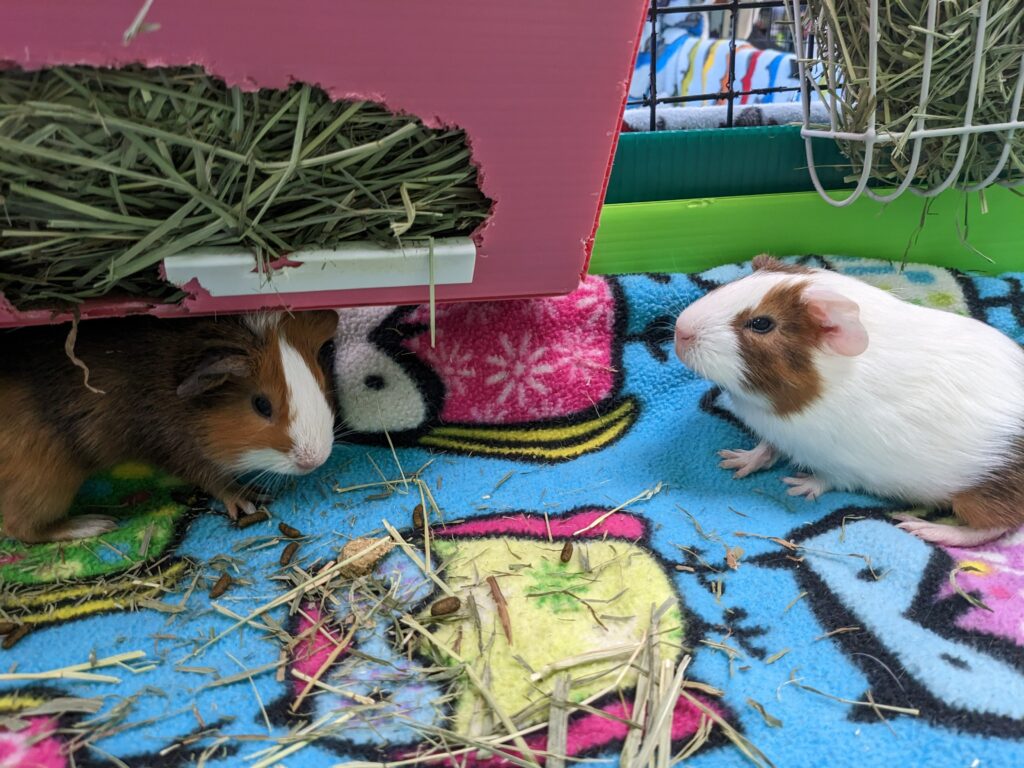 Medical Info
-Healthy, no concerns
How they came to the rescue
Twix and her companion were acquired by a family who wanted two guinea pigs and were told they were getting two boys. They were, in fact, not two boys but a boy and a girl (surprise!) and Twix soon after gave birth to three babies. The family kept one boy baby and dad but didn't have the time and space to devote to five guinea pigs and two enclosures so the girls and Almond Joy came to us to find a family!
Think you are the right match for the candy girls? Contact an adoption counselor to get your application code and start the process today!